Sunday morning, I was sitting in the church auditorium waiting for the service to begin.  As people started coming in, a father and his two small sons joined me on my row.  The boys started walking toward me and when they were near, I bent over and gave each of them a hug.    They then turned and walked back to their father.  They looked over their shoulders at me as they were walking and smiled at me.
I can't tell you what that 30 second exchange did for me, other than it refreshed me and made my heart very happy.   What a precious moment.
As a result, the following day, I wrote these words:
How to avoid bitterness, a cold heart, and dismay: Give/Get a hug from a small child. Cherish their little arms and hands holding on to you. Allow their sweet smile and gleaming eyes renew the hope within you. It washes all the bad from you.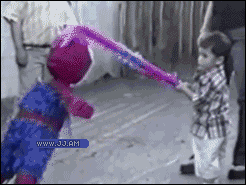 There may be some days you feel like your nothing more than a pinata and the Lord will bring to you a innocent, sweet child to remind you that not everyone wants to hit you with a stick.   Take courage, my friend!